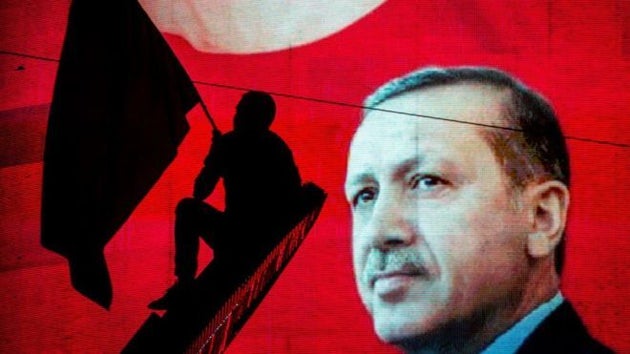 Those who cannot remember the past are condemned to repeat it.― George Santayana, Philosopher
On February 27, 1933, a fire broke out in the Reichstag building, which housed the German Parliament in Berlin. Although the fire's origins remain shrouded in mystery, the Nazi Party blamed the attack on communists plotting to overthrow the German government. Making an appearance at the scene of the fire, Chancellor Adolf Hitler was surprisingly jubilant: "You are now witnessing the beginning of a great epoch in German history," he continued, "This fire is the beginning."
Following Hitler's lead, the German Cabinet swiftly declared a state of emergency. President Paul von Hindenburg was convinced to issue the now-infamous Reichstag Fire Decree, which suspended almost all civil liberties in Germany. SS and SA agents immediately began a widespread cleansing of all opponents of the Nazi cause, extending well beyond the communists blamed for the arson. Using the state of emergency as a pretext, the Nazis began to consolidate control and establish a one-party dictatorship in Germany with Hitler at the helm.
Undoubtedly, there are real differences between the Reichstag fire and last Friday's coup attempt in Turkey. Although historians disagree, the Reichstag fire may have been a masterfully executed hoax, but the Turkish coup attempt will rank among the most incompetent in history, with the plotters severely miscalculating the monumental effort required to topple a stable government. And despite speculations to the contrary, there is no credible evidence that President Recep Tayyip Erdoğan staged the Turkish coup attempt.
Despite significant differences, some unsettling resemblances also exist between the two events. The Turkish government, like its historical German counterpart, has seized the event as an opportunity to conduct widespread purges of political dissidents and consolidate power. Following the coup, President Erdoğan immediately vowed revenge against the coup plotters and warned that they would pay "a heavy price for their treason." He specifically pointed the finger at Fetullah Gülen, an influential Islamist preacher living in self-exile in Pennsylvania with a loyal following in Turkey. An alliance of convenience between Gülen and Erdoğan broke down in recent years, as Erdoğan blamed Gülen's followers within the police and the military for a sweeping corruption investigation against Erdoğan and members of his Cabinet in 2013. A clash of ideologies soon turned personal, locking the two men in an endless vendetta.
President Erdoğan, apparently a firm believer in the adage that a good scandal should never go to waste, authorized an immediate crackdown against so-called Gülenists. The numbers are dizzying. In less than a week after the coup attempt, the government detained 6,823 soldiers, 2,777 judges and prosecutors (including two judges on the Turkish Constitutional Court), and dozens of governors. To top it off, 49,321 civil servants were removed from their positions, and the teaching licenses of 21,000 private school teachers were terminated. Nearly 1,600 university deans were asked to resign, and academics at Turkish universities were required to return home and refrain from traveling abroad. The replacement of these individuals with government loyalists will provide President Erdoğan direct control over numerous institutions.
The massive scale of the purge extends well beyond those who might have had connections to the coup plotters. It strains the imagination to suppose that tens of thousands of individuals from different walks of life secretly planned and executed a coup attempt. Under the facade of rooting out coup plotters, a colossal witch hunt has been authorized against President Erdoğan's opponents.
This witch hunt began well before the Cabinet's issuance of a state of emergency on Thursday. The Parliament, controlled by the Justice and Development Party co-founded by President Erdoğan, approved the Cabinet's decision on Thursday afternoon by a vote of 346 to 115. The state of emergency is currently scheduled to last for three months, but it can be extended by the Parliament.
A coup attempt against an elected government undoubtedly poses a serious emergency for the democratic order and must be condemned in the strong terms. But the Cabinet issued the state of emergency
after
the emergency that prompted this extreme measure had been extinguished. The coup attempt was put down swiftly and decisively. With nearly 10,000 detained, and over 50,000 fired or suspended, one is left wondering what emergency remains. Any suspected coup plotters that somehow managed to escape this week's sledge hammer can be rooted out and arrested using the same pre-emergency measures. In a Freudian moment that harkened back to the Reichstag fire, Justice Minister Bekir Bozdağ insisted that the state of emergency was necessary to "put out the fire."
The breadth of the state of emergency is nothing short of sweeping. It allows the Cabinet to rule the country by decrees that are immune from constitutional review. Although the decrees are subject to parliamentary override, this power will remain unused by a Parliament firmly at President Erdoğan's beck and call. Under emergency legislation triggered by the Cabinet's declaration, the Turkish government also has the authority to impose curfews, curtail constitutional rights with impunity, prohibit demonstrations, censor publications, and conduct searches and seizures without warrants.
Robert Jackson, who served as a justice on the U.S. Supreme Court and chief U.S. prosecutor during the Nuremberg trials, was well aware of the dangers posed by emergency powers. In a famous case that invalidated President Harry Truman's war-time seizure of domestic steel mills, Justice Jackson penned one of the most influential Supreme Court opinions in history. He argued that the executive's invocation of the emergency power must be carefully scrutinized, despite President Truman's insistence that the seizure of the mills was essential to supply the Korean War effort. Emergency powers, Jackson feared, "would tend to kindle emergencies," allowing the executive to manufacture or exaggerate social and economic crises to expand his own powers and threaten the democratic order.
These fears may have found a home in Erdoğan's Turkey. And there is no Justice Jackson to stand in Erdoğan's way. Having curtailed all checks and balances against his powers, Erdoğan will further consolidate control, promote with new vigor his agenda to create a presidency with sweeping executive powers, and authorize additional crackdowns to keep his opposition at bay.
For Turks, things are bound to get much worse before they get better―if they ever do.
The Case For Turkey's Recep Erdogan As Antichrist
Many are looking at Recep Erdogan as the Antichrist. The following is an amalgamation of several who absolutely believe he is. As there have many many "Types" he may or may not be. the following will have it's proponents and detractors. Personally I never 'paint myself into a corner.' I will not name the writers whom I have extrapolated views from as their soteriology is not biblical. S.M.
"

Turkish Prime Minister Erdogan has been claiming to be like God!
2Th 2:4 Who opposeth and exalteth himself above all that is called God, or that is worshipped; so that he as God sitteth in the temple of God, shewing himself that he is God.
Turkish President Erdogan has also announced his plans to form of a new Islamic Union led by Turkey. Erdogan has made his desire to reestablish the Turkish ruled Ottoman Empire very clear. Erdogan has also vowed that he will remove Syrian President Bashar Assad from power. These are all things that the bible tells us that the Antichrist will do.
The Antichrist will do many other things. So will Erdogan. Turkish Prime Minister Erdogan is the Antichrist. Here is why, and here is why the Antichrist will destroy Damascus and then invade Israel!
First the Antichrist is called the Assyrian (Isaiah 10 and elsewhere) because he will do the same things that the Assyrian kings did! The Assyrian Kings led two separate invasions into Israel. First they invaded Syria plus northern Israel in 734 BC. Second they invaded southern Israel in 701 BC.
You would probably say that Isaiah 17 is about the future destruction of Damascus, and you would be right. But Isaiah 17 is foremost about the conquest of the country of Syria in 734 BC by you know who: The Assyrian King Tiglath-pileser! This is a model for the future destruction of Damascus."
The verses below describe the second Assyrian invasion of Israel. They also describe the future invasion of Israel by the Antichrist. Guess what? He (they) is bragging about his previous conquest of Syria!
Isaiah 10:7 Howbeit he meaneth not so, neither doth his heart think so; but it is in his heart to destroy and cut off nations not a few. 8 For he saith, Are not my princes altogether kings? 9 Is not Calno as Carchemish? is not Hamath as Arpad? is not Samaria as Damascus? 10 As my hand hath found the kingdoms of the idols, and whose graven images did excel them of Jerusalem and of Samaria; 11 Shall I not, as I have done unto Samaria and her idols, so do to Jerusalem and her idols?
Assyrian King Sennacherib is speaking here. So is the future invader of Israel. He is recalling previous victories over Syria and northern Israel.
Is Magog the Antichrist? And Erdogan Magog? Ezekiel 38:2-3 calls Magog the "chief prince" amongst his brothers. The Hebrew words mean "primary governor". Magog's brothers settled Turkey and were set over provinces. Most bible prophecy teachers place them there. Magog was also set over a province in Turkey. He was the most prominent prince amongst his brothers. So the end time Magog is the "primary governor" of Turkey.
Eze 38:1-3 And the word of the LORD came unto me, saying, 2 Son of man, set thy face against Gog, the land of Magog, the chief prince of Meshech and Tubal, and prophesy against him, 3 And say, Thus saith the Lord GOD; Behold, I am against thee, O Gog, the chief prince of Meshech and Tubal:
To learn more about the identity of Magog please read my commentary The Princes of Turkey
According to Ezekiel 38 & 39 Magog leads two end time invasions into Israel. Ezekiel 38 describes a Turkish led battle joined by Iran, Libya, and Sudan. Ezekiel 39 obviously describes the battle of Armageddon. So if Magog leads the battle described in Ezekiel 39, and the Antichrist leads the battle of Armageddon then Magog is the Antichrist. Let's not forget that these two invasions are modeled after the Assyrian invasions. The first started with an invasion into Syria followed by an invasion into northern Israel. The second Assyrian invasion was into southern Israel. What's the point of knowing that the Antichrist is called the Assyrian if we are just going to forget? The antichrist will invade Syria plus northern Israel then come back latter to invade southern Israel. These are the battles of Gog and Magog in Ezekiel 38 and 39.
The Antichrist is also called a "prince" and "a little horn". Magog is called the "chief prince". If a big horn is a King, then a little horn is a prince! A Prime Minister is a "chief prince"! Now Turkish President Erdogan was Prime Minister of Turkey from 2002 to December 2014!
Third Libya, Iran, and Sudan are all fighting in Syria today! This is a list of the nations that the Prime Minister of Turkey will lead in an invasion into Israel according to Ezekiel 38:5!
Ezekiel 38:5 Persia, Ethiopia, and Libya with them; all of them with shield and helmet:
Erdogan will invade Syria, destroy Damascus, and then lead these armies in an Invasion into Israel. It will not go well. Some kind of peace plan will be put in place with Israel. Erdogan will break the treaty in the midst of its term.
The Turkish government isn't "moderate" and trying to position itself to help bring peace in the Middle East. Instead, its top officials are promoting the themes against Israel's right to exist that sustain the conflict.
From ENDTIME TRUTH: The political success of Erdogan is alarming. One of the best advantages the West enjoys in the ideological war is that Islamists usually lose much of their support once they gain power. The most recent entry in this pattern is the Muslim Brotherhood in Egypt. On the other hand, the popularity of the AKP and Erdogan has increased in Turkey since they came into power.
Israel may stand strong against Iran, Hamas and the Muslim Brotherhood, but it caved to Turkey. The apology and the West's reluctance to confront Turkey sends the signal that Erdogan is the leader of the region.
It must be considered that satan will use deception to
camouflage the real anti-type. But this guy Erdogan is
starting to
fit the prophesies. His name "recep
erdogan" has a gematria value of 666
Recep

Tayyip Erdoğan
has 18
letters
6+6+6=18.